Welcome to our holiday house Villa Miriam!
Discover and enjoy the beauty and the unique atmosphere of the Silesian nature with many lakes and forests.
Here you can experience the rich history of Silesia as well as its present day wonders.
Our exclusive holiday house, built in 1904 and renovated in 2000, is pleasantly surrounded by a beautiful garden and trees.
It is centrally located in the spa town of Goczałkowice Zdrój (Bad Gottschalkowitz) and offers you a comfortable and well-equipped accommodations that will surely provide you nothing short of a memorable stay with us.
Discover Silesia's vibrant cities, traditional villages and distinctively unique romantic landscape!
We offer harmony and comfort in two holiday apartments, each with ample living space of 150 m² along with the following amenities:
1st Floor Apartment accommodation for 6 people
3 bedrooms with each with two beds and balconies
bathroom
living room with balcony
fully equipped kitchen
free do-it-yourself laundry (washer and dryer)
Ground Floor Apartment accommodation for 6 people
2 bedrooms, one with two beds and one with two double beds
bathroom
living room
hunting room with television and fireplace
fully equipped kitchen
Our holiday house is conveniently located 1 km from a lake, 150 meters from the Vistula River and surrounded by our enclosed 3000 m² sunny garden which features a small wild pond, an assortment of various plants, flowers and trees, as well as garden furniture, grill, and fireplace that are available for your use providing you with the richest experience that we can hope to offer.
Bicycles are available (call for details).
Parking for 4 cars.
Villa security is monitored 24 hours a day.
Many local restaurants allow you to enjoy daily Silesian and international cuisine (the nearest is just a short walk away and others within a short 5 minute car ride).
Two grocery stores are within a two minute walk and larger shopping centers are within a 5 to 10 minute car drive.
Activities, Local Attractions, Historical & Cultural sites:
Sights:
Auschwitz Concentration Camp (20 minutes by car)
Krackow and Wieliczka Salt Mine (1 hour by car)
Czestochowa (1 hour by car)
Pless Castle (10 minutes by car)
Coal Mining Museum (30 minutes by car)
The Bison Experience – a park with a bison herd (10 minutes by car)
Browarium Tychy Brewery Museum (20 minutes by car)
Kapias World of Gardens (10 minutes by car)
Sporting Activities:
Ski slope with a lift in Wisla (30 minutes by car)*
Tropicana & Wellness Aqua Park in Wisla (30 minutes by car)
Equestrian center (5 minutes by car)
Tennis courts (5 minutes by car)
Golf course (5 minutes by car)
Go-Kart track (20 minutes by car)
Directly by us:

swimming lake with a sandy beach along with opportunities for sailing, diving, and windsurfing
sports hall and swimming pool
hiking, cycling, Nordic walking
*30 other lifts located with 25 km radius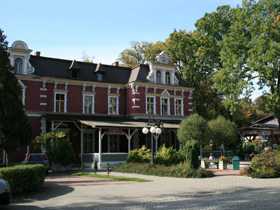 Medical Treatment at Spa Town of Goczałkowice Zdrój (Bad Gottschalkowitz)
It is possible that your health insurance may cover the costs of your medical stay and other treatments that are not covered by your health insurance may be privately booked.
In the spa town of Goczałkowice Zdrój (Bad Gottschalkowitz), the sanatorium was established in 1856 and mainly treats locomotor diseases, rheumatic and orthopedic diseases and neurological diseases with medicinal raw materials, such as SOLE and MOOR from the local area.
Other locally offered treatments are available for diseases of the blood vessels, and diseases of the throat, nose and ears.
Eye surgery and dental work are also able to be performed in a local clinic.
For further therapy, there are also a variety of possibilities of relaxation methods, including a saltwater pool, sauna, massage and cryotherapy.
When place a booking inquiry, please provide your telephone number so that we may be able call you back to answer all your questions.
We would be glad to welcome you as guests!
Welcome!